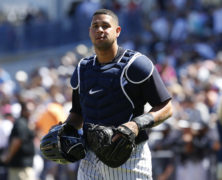 A BABS Perspective on Under and Overachievers
by Chris Doyle
By now we've had a solid couple of months to analyze player performance. On the hitting side, we've seen plenty of standouts and disappointments, but when it comes to BABS' assessments there are some clear underachievers and overachievers.
Here are six players whose performances have defied expectations, one way or another:
Underachievers
Gary Sanchez
Current: (P+ | -AV)
Preseason: (PW, AV)
It's been an interesting start for Sanchez (pictured), the top catcher coming into . . .
This content is restricted to subscribers